Find out how Pobble can support your teaching of writing this school year.
Pobble offers webinars for Pobble for Me subscribers, NQT's, students and school leaders.
Visit our webinar booking page or click on the images below to book your webinar today!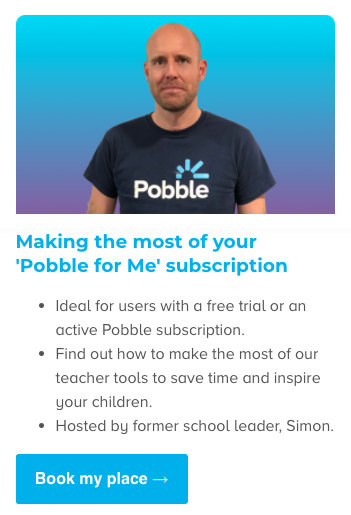 Watch a video of a previous "Making the most of your Pobble For Me subscription" session.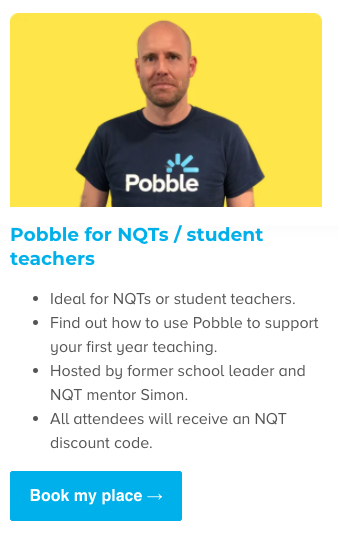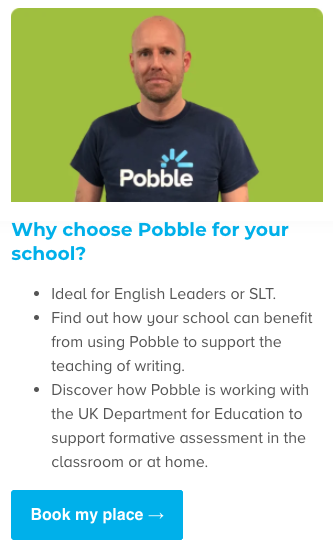 FAQ
Can I ask questions?
Yes. We'll answer any questions at the end of the session.
Can I invite a colleague?
Of course! Please invite anyone you think will be interested in learning more about Pobble
How long does a webinar last?
Unless mentioned webinars are normally no more than 30 minutes.
How do I know if my place is confirmed?
When you sign up you will receive an email with a link to access the call. We will also send you a reminder before the event and some follow up information afterwards.
Will the session be recorded?
We don't record every session, but you can access previous talks on this page. The links are beneath the 'book my place' button.
Do I have to be on video?
No! Just dial in and you can type a question if you like.