With a Pobble whole school subscription, you gain unlimited Pobble subscriptions for your staff and pupils!
That's unlimited access to:
Daily, high-quality writing activities for every age group
Powerful pupil tools to enable independent learning
A platform to share and celebrate writing
Effective training and support
Who are we a good fit for?
Any school that has identified writing as a focus will benefit from Pobble.
Pobble is especially effective for schools looking to:
Improve pupil writing stamina.
Motivate even the most reluctant writers.
Provide pupils with a purpose to write and encourage them to produce their best work.
Improve writing standards across every age group.
Raise the profile of writing across their school.
Reduce team workload whilst planning engaging writing lessons.
Our whole school customers all have specific and diverse needs and include government, independent and international schools.
Why go whole-school?
Pobble was created in the classroom of a Primary School in North Yorkshire by an ambitious teacher striving to find the right tools to teach writing. Now run by a small but passionate team of teachers, writing experts and education technologists, we understand the writing challenge and know how you feel - we're one of you!
For more than ten years, we have gained feedback from hundreds of thousands of real teachers to understand what schools need to deliver effective and impactful writing lessons and achieve outstanding results across every year group.
A whole-school Pobble subscription allows you to:
Support your teaching team with easy-to-use tools that reduce workload and improve writing standards.
Create a focus across your whole school community on improving writing.
Access unlimited accounts for every teacher in your school, including NQTs and support staff.
Gain support with school setup and training to maximise Pobble's potential.
We're the best solution for schools identifying writing as an area of focus and looking to raise writing attainment. More than 1,500 schools in the UK alone have already selected a whole-school Pobble subscription!
Are we any good?
When it comes to teaching writing, we're respected, trusted and proven to work...
We've won numerous awards, including the BETT award for "Best Classroom Aid for Learning, Teaching and Assessment". Pobble was also selected as one of just 8 organisations funded, independently evaluated and supported by the UK Department for Education as a recipient of the government's Edtech Innovation Fund.
Additionally, research undertaken with UCL's Institute of Education as part of their Educate programme shows that Pobble reduces teacher lesson planning time by 39%, whilst improving pupils' speed, confidence and enjoyment of writing, leading to improved attainment.
The best validation for us, however, is that teachers frequently tell us that they LOVE the impact Pobble has on writing in their schools. Pobble is trusted by a community of over a million teachers and students in 50 countries around the world!
We're proud of the impact Pobble is having on schools around the world and even prouder that busy school leaders love Pobble enough to take time out of their schedules to share their stories with others. Have a read of these blog posts to hear about the impact Pobble has had in other schools:
Why your school should become a Pobble School - a Headteachers story.
Hear what school leaders say about Pobble here. Or you can read 40+ independent reviews on Edtech Impact.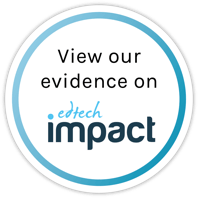 Next steps...
Ready to get started?
Pass this document on to your school administrator and they can purchase your subscription online here. They can generate an invoice and easily pay by debit card or bank transfer.

Book a consultation
Still unsure? Book a 15-minute call with experienced Primary school leader and Pobble Co-founder Simon Blower here.
In the call we'll discuss:
The specific challenges you're facing with writing in your school.
How Pobble could support you.
What a school rollout would look like for you.
Any questions?
Have a question or query about a Pobble whole school subscription?
Drop us a line at hello@pobble.com
Ready to get started?
If you're ready to embed a school-wide love of writing and motivate every child to produce their best work now, you can become a Pobble School here.