This guide outlines the steps required to set up your school to use Pobble. This is applicable to schools with free teacher/pupil accounts, or a paid Pobble School Teaching and Learning and/or Moderation subscription.
Contents:
For all schools:
1. Process your invoice (if applicable)
2. Check your Pobble school administrators
This video also guides you through the above steps (you can increase the playback speed via the 'cog' icon if you wish).
Existing schools will need to update their teacher and pupil data for the new school year.
Additional steps for schools using Teaching and Learning tools (i.e. schools trialling with free teacher accounts, or those who have purchased a Pobble Teaching and Learning subscription):
6. Implement a writing routine with our example Action Plan
7. Inform your parents about publishing and activate
1. Process your invoice (if applicable) - if you have purchased a paid Pobble School or Moderation subscription via the Pobble school pricing page, you will have paid by credit card, or selected bank transfer/cheque and been sent an invoice via email. If you did not pay by card, please process the invoice promptly to ensure your continued Pobble access.
Schools who have received a Pobble School or Moderation subscription paid for centrally by their LA/MAT/group won't receive an invoice directly from Pobble.
2. Check your Pobble school Administrators (Admins) - in Pobble you can nominate admins for your school. Admins are responsible for adding and removing your teachers, pupils and groups in Pobble.
Your default admin may be your school secretary/office, SLT or an English Leader. Please check who is assigned (hopefully you, if you're reading this) and change the admin or add additional colleagues to this role from your school team page as needed. For example, if you are using MIS sync, you may wish to add your IT technician or Wonde administrator.
We recommend that all schools add their school secretary/office as an admin and activate the associated Pobble account. This will make it easier to assign other admins if existing admins leave the school or are inaccessible.
3. Add your colleagues - as an admin, your next step is to invite your colleagues to Pobble via your Team Page. You can add unlimited colleagues, so feel free to add teachers, TAs, support staff etc. using the instructions below.
Click on your avatar, then "My account", then "School" and select the 'Team' tab.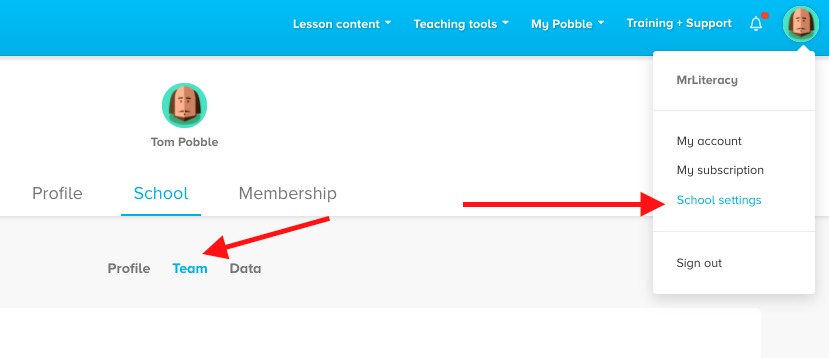 Add each of your colleagues' email addresses in the field on the bottom right and click "add a teacher'. You may wish to ask a member of your office staff to do this quickly for you.

Once added, your colleagues will receive an email inviting them to activate their account and complete their registration by clicking a link (valid for 5 days). You can tell that your colleagues have activated their accounts as their full names will show on your team page. They will show as 'pending' otherwise, however, you can resend the link to them at any time by clicking the three dots menu.
We recommend that you inform your colleagues that they are about to receive a Pobble account prior to inviting them to the platform.
For more details on adding colleagues, and some suggested email text, see How do I add my colleagues to my school?
Note - staff from your school may have previously registered for a free Pobble account. They will already appear in your Team Page and therefore will not receive an invite email.
If applicable, please inform those members of staff that their account status has now changed and that they now have additional access to Pobble through their existing account.
If their account has been inactive for a while they may require a password reset.
If your Team Page includes staff that are no longer at your school please remove them for security reasons.
How do I remove colleagues no longer at my school?
4. Add pupils and groups - the simplest and securest way to add your pupils and groups to Pobble is to sync your MIS with Pobble through our data partner Wonde.
From the My Pobble top navigation menu, select My Pupils, 'add pupils' and click 'Connect with Wonde' and follow the instructions. Please ensure that you retire any pupils that you may have previously added manually to avoid any clashes.
Please note this will also sync ALL the pupils and groups in your MIS, so there is no need to manually create groups. However, you can still create additional manual groups if you wish.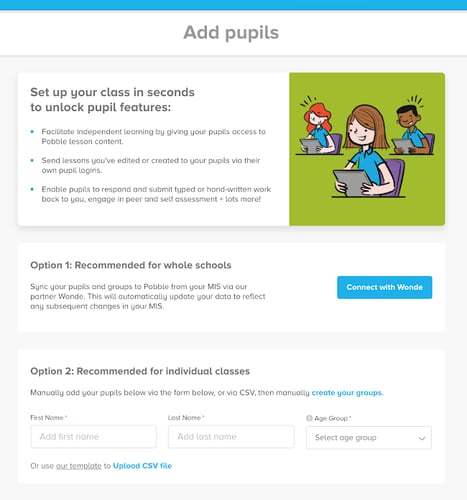 Wonde integration - getting started (pdf produced by Wonde)
How do I sync my MIS with Pobble? (detailed guide, including how to exclude specific pupils via Wonde's access control tool)
If you require any assistance when logged into Wonde, please email support@wonde.com and this will create a ticket with their school facing teams.
Once approval has been given by Wonde (look out for an email), your pupils should be synced within the next 2-4 hours.
Alternatively, you can manually add pupils individually or by uploading a .csv. Then you can create your groups manually in the My Pupils area.
How do I add my pupils to Pobble via csv?
How do I create groups for my pupils?
5. Training
Like all new initiatives it is really important that Pobble is introduced in the right way.
Head to our Training Page where you can watch short videos on Pobble resources, Pupil tools, Publishing and Moderation.
Present our Pobble Staff Meeting lesson to your colleagues.
You can also book onto a CPD webinar or Pobble staff meeting at your convenience.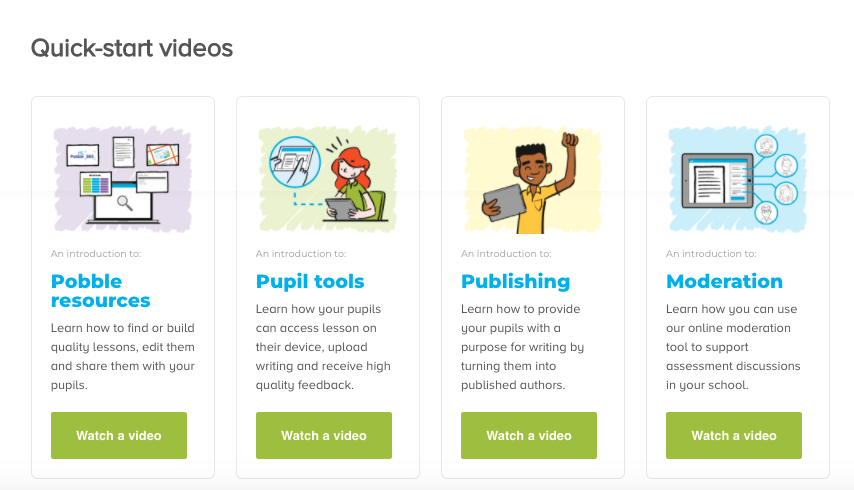 Interested in finding out more about our Pobble School subscription, which includes our award winning Teaching and Learning writing tools? Click here.
The following steps are relevant for schools using Pobble's teaching and learning tools:
6. Develop a writing action plan
We highly recommend that you develop a daily, weekly and termly Pobble routine for writing in your school. Based on the experience of many of our schools, we have developed an suggested routine, which can be incorporated into your school development plan and writing action plan.
View the suggested routine in lesson format, where you can view, save, share or download!
Develop a Pobble routine that works!
Encourage regular use of Pobble lesson resources, including Pobble 365, Pobble News, the Pobble Writing Bank and our Pobble lessons
Where IT allows, ensure pupils have regular opportunities to use their pupil logins. This can be to access lessons, upload work, peer and self assess writing or to access example texts
Create a weekly routine for publishing which would usually involve recognising the work of 2-5 pupils per class. Celebrate their work on the Pobble site, reward them with certificates, lanyards or stickers, or run a whole school celebration assembly!
Introduce termly opportunities for online moderation. You can create benchmarked files to support your school's internal moderation practises, or use Pobble to remotely moderate with other schools in your cluster or school group.
7. Inform your parents about publishing - one of Pobble's most unique and exciting features is the ability to publish and celebrate pupils' work on your own school Pobble page. Since this means pupils' work can be viewed (anonymously) by registered users outside of your school, we highly recommend that you inform parents prior to publishing pupils' work.
You can do this in a variety of ways (and it will depend on your school IT policy), including messaging your parents through your parent comms app, sending them a specific letter, or including Pobble in your central IT policy.
If you opt for sending a letter, here is a suggested template letter which you can personalise as needed for your school.
Please note, obtaining parental permission is NOT a legal requirement for using Pobble and you may well already have this covered under your existing IT policies. However, we recommend communicating clearly with your parents so that they engage more with supporting their child in using Pobble.
You can use all other aspects of Pobble (everything aside from publishing) without engaging with parents if you choose to.
8. Activate publishing
Once you have informed parents, or checked that you are covered under your existing IT policy, you can activate publishing for your pupils. Simply select the relevant pupils in your 'My Pupils' dashboard, click the 3 dot 'Action' button and select "Add permission to publish". You can do this individually or in bulk by selecting 'All'.
Pupils that have permission to publish will have a green tick in the permission column on your My Pupils page. They are now ready to become published authors!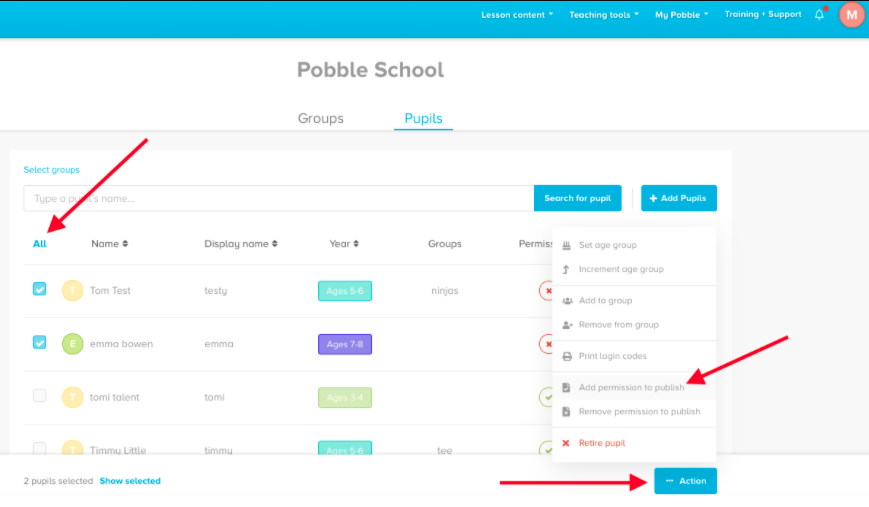 You can also remove permission via this same method.
For more details, please see our article on activating publishing via the permission checkbox.
9. Link your parents
Parents can connect with their child's account on Pobble, enabling them to receive an email every time their child's work is published. To connect your parents, simply provide your parents with their unique 'parent code' by navigating to your My Pupils page, selecting the relevant pupils and selecting 'export pupil/parent codes' from the 3 dot action button.
Parents can register directly for Pobble and then input their parent code on their account page.
How can a teacher link a pupil to a parent?
How does a parent activate their parent code?
Fantastic! You are now all set up. We recommend reviewing your Team Page, pupil lists and assigned Pobble admins every term to keep your records up to date.
Questions regarding privacy or GDPR? Visit our legal pages or download an example school DPIA for Pobble here.
If you need any further set up support, please contact Tom at hello@pobble.com.
If need any further training support contact Simon at hello@pobble.com.