By default, ALL users are synced over from your MIS to Pobble. However, your school Wonde administrator is able to amend this via the Wonde Portal.
Schools are provided with their own Wonde Portal as part of Wonde's onboarding and approval process. This gives schools full visibility and control over which third parties are accessing their data via Wonde.
Find out more about Wonde's school data managament.
The Wonde portal offers an access control feature which filters users on an app by app basis.
Something to be aware of is these settings are not automatically updated at the start of each academic year.

Wonde has two access control methods that a school can use:
Blacklisting - the school selects users (pupils/students) who ARE NOT shared - ie excluded from Pobble.
Whitelisting - the school selects users (pupils/students) who ARE shared - ie added to Pobble.
Select the 'Access control settings' tab, which is available via the Dashboard/Advanced Actions menu.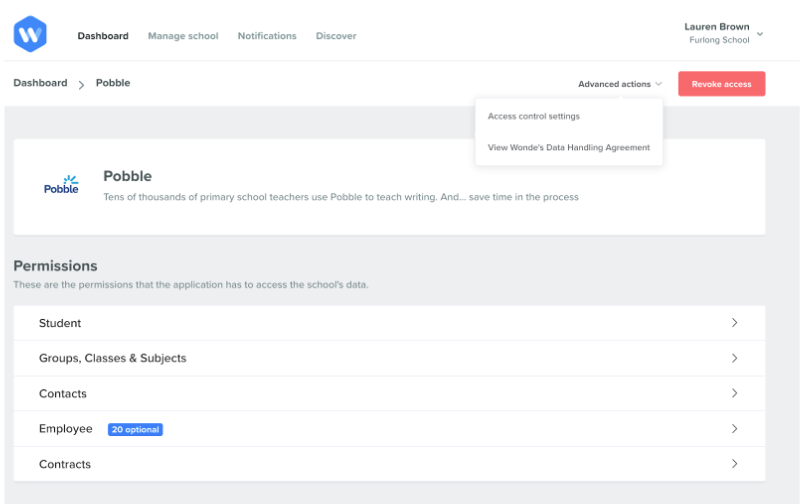 There are three access control options - by default the top option is selected, 'Allow access to all users'.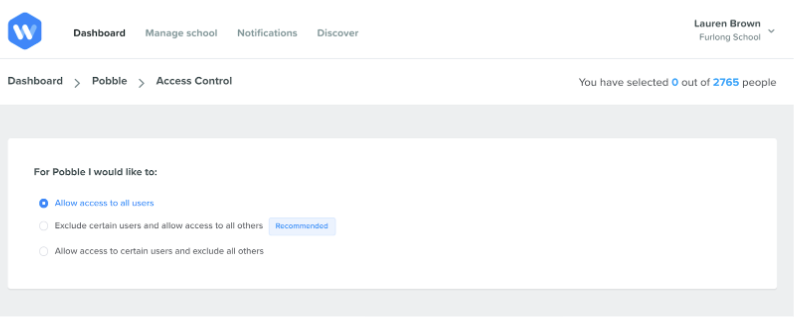 If you are looking to exclude an individual user (i.e. a parent doesn't want their child to be added) you'll want to select the second option 'Exclude certain users and allow access to all others'. Then search for and click on the pupil/s you wish to remove - they will show as excluded. These pupils will not appear on Pobble once the sync takes place.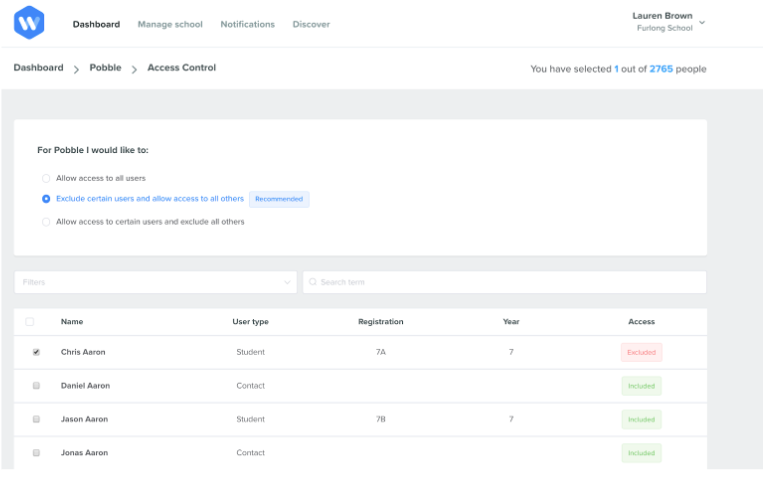 Your school may only be using Pobble with a few classes, a Year Group or a Key Stage. In this case you will not require data for the entire school to be included.
Check the third option -
"Allow access to certain users and exclude access to all others"
You can search for and select which Registration/Year Groups to include.
Please note that if any new pupils join that year group during the academic year, they will have to be selected in the same way.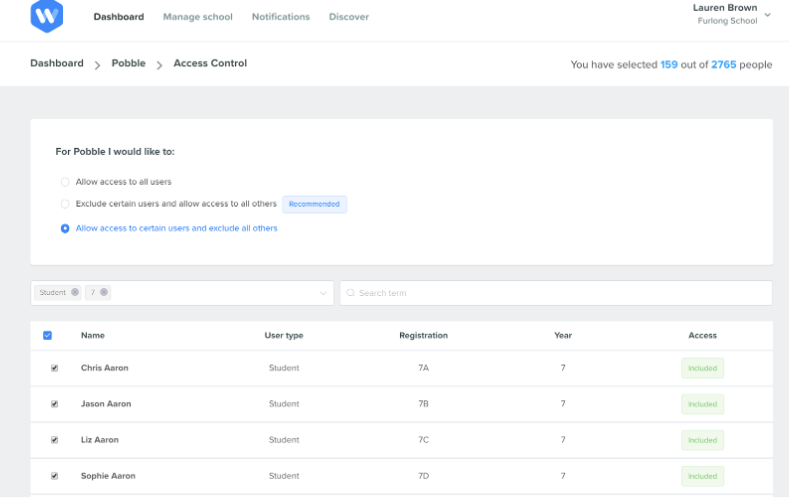 You are only able to apply one user control method to your Pobble connection. Please note, if you change user control this will reset any users previously selected.

For any further support, please contact
Wonde ☎️ 01638 779 144✉️
support@wonde.com
Pobble☎️ 02086 291 732✉️ hello@pobble.com