Sync your pupils to Pobble to save valuable time!
Pobble Schools can link Pobble to their MIS (e.g. SIMS, RM, Scholarpack) so that any changes in your MIS (e.g. new pupils or pupils that leave the school) will be automatically updated on Pobble, saving valuable time!
Please note that by default, ALL pupils and groups on your MIS are uploaded to Pobble.
If you only want to;
-upload a key stage or pupils in certain year groups
-exclude a child from the sync
-or you are an "all through school" who have an MIS with pupils ages 4-16
please see this article on Wonde Access Control.
Please note Pobble also just mirrors what groups you have created for your pupils in your MIS, so we would advise 'tidying' up these groups in your MIS prior to sync.
Step 1 (if applicable). If you already have pupils on Pobble that have been added manually, ensure that your lists of pupils in Pobble and your MIS are as similar as possible. For example, this may involve removing any old Year 6 pupils from Pobble who are no longer on your MIS. Please click below for more information on how to do this, if required.
How do I remove pupils from Pobble?
Step 2.
If you already have Wonde installed for other applications in your schools, you can go straight to your Wonde portal.
If you do not have Wonde installed, you can request access directly via Pobble. As an administrator for your school, click on your account icon in the header and select 'School settings / Add pupils'.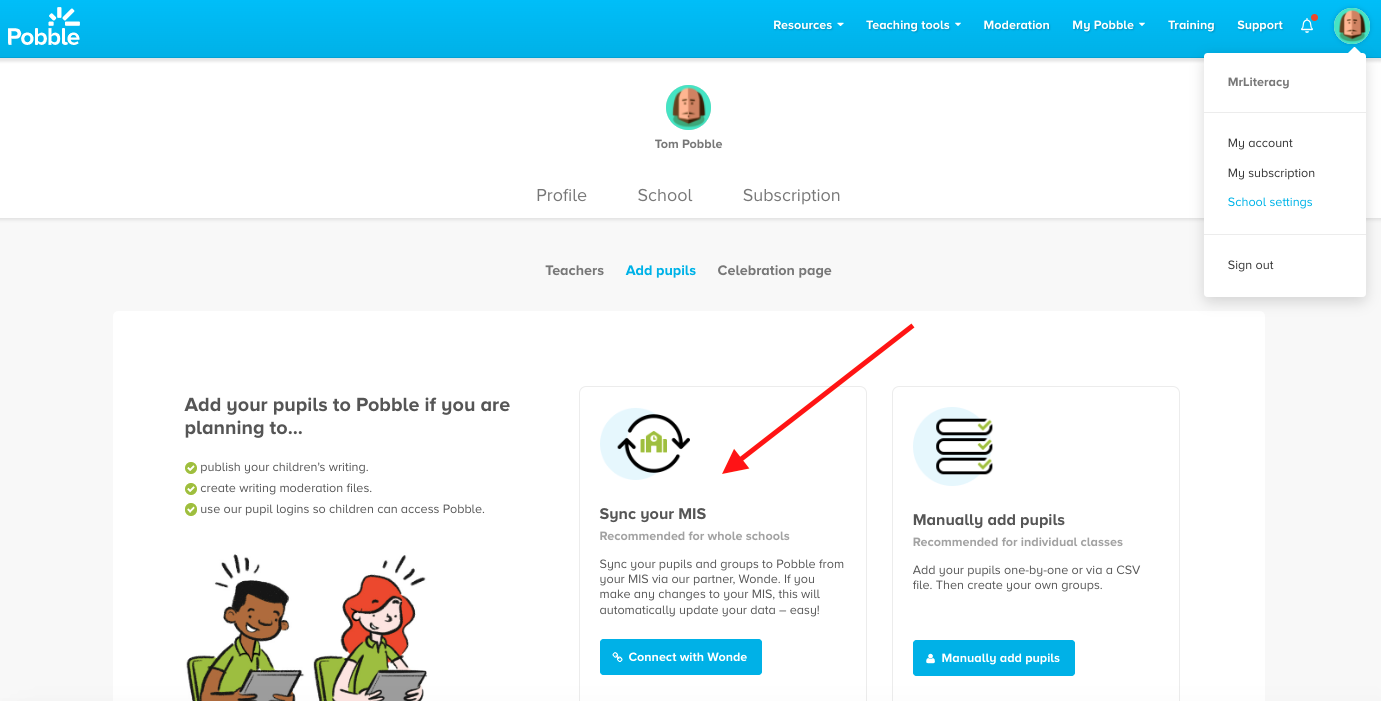 Next, click 'Connect with Wonde' and complete the information below. This will inform our data partner Wonde that you wish to connect.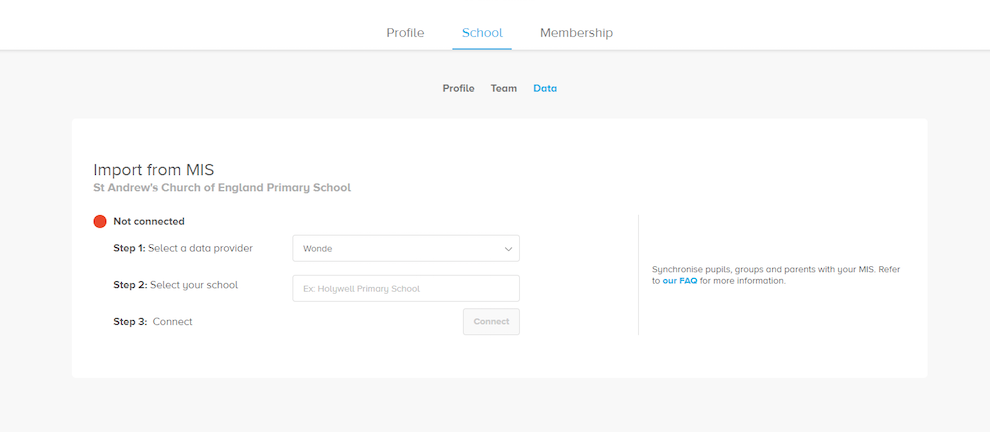 Step 3. Wonde will then take you through the next steps of the process, outlined below or in their Getting Started guide (pdf)
-Wonde will contact your school to verify the contact (you).
-You will receive an email from schools@wonde.com which will invite you to create your "Wonde Portal" account (if you do not have one already via another application). This portal gives you full visibility and control over which third parties are accessing your data via Wonde.
-Once logged in to your Wonde Portal, select "Pobble Education Ltd" and review the permissions.
-Select which pupils you wish to import. You will have three options
● Allow access to all users
● Exclude certain users and allow access to all others (Everyone but these users)
● Allow access to certain users and exclude all others (No one but these users)
This document outlines the access control options.
-Once happy all the relevant pupils have been selected, click the "Approve" button located in the top right-hand corner. This will approve the connection.
- You will receive an approval receipt via email
- You can then complete a self-install or book an appointment with one of Wonde's integration team to support you.
- Your pupil data should be synced over to Pobble within 2-4 hours after approval has been given. Wonde will send you a confirmation email.
-Finally, log in to Pobble and head to your pupil dashboard to check all is well.
Getting Started with Wonde (pdf)
If you require any assistance when logged into Wonde, please email support@wonde.com and this will create a ticket with their school-facing teams.
Useful documentation from Wonde on policies and Agreements, School Data and GDPR and MIS Integration Guides can be found here.
For even more information please visit Wonde and School Data Management.
Wonde ☎️ 01638 779 144