Signed up for a Pobble Teaching and Learning or Moderation account? Fantastic! Here's how you get set up.
Access to the Pobble Tools outlined in this guide depends on your subscription type. Please see our Pricing Page and Subscription FAQs for more information.
Setting up your class
Add your pupils to the platform. This takes less than 5 minutes.
How do I add my pupils to Pobble?
How do I create groups for my pupils?
Training
Head to our fantastic new Training Page for quick start video guides on Pobble resources, Pupil tools, Publishing and Moderation.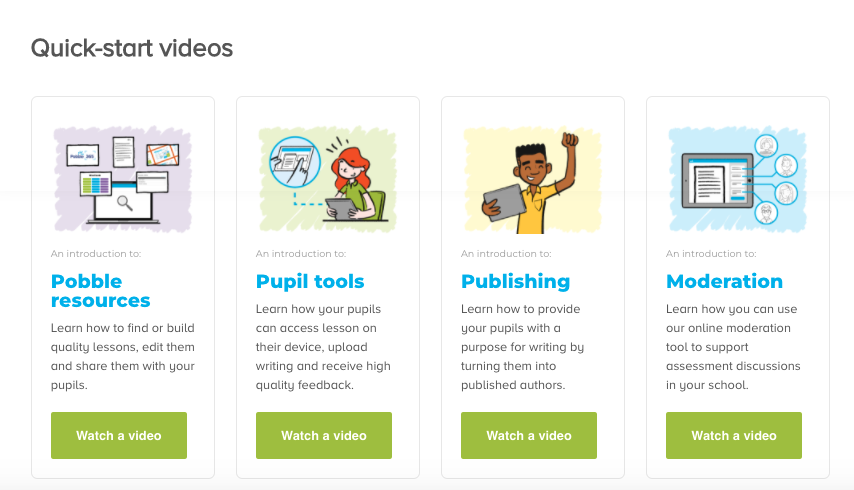 Pupil Tools
Useful resources to help get you started with pupil tools.
Pupil logins introductory lesson
Publishing
Useful resources to help get you started with publishing!
Celebration materials (certificates, lanyards, stickers, displays).
Link your parents
Teachers can provide a unique 'parent code' so a parent can connect their Pobble account with their child. This allows the parent to view their child's writing and be notified when they are published!
The code is generated when a teacher first adds the pupil to Pobble. The parent then uses this code when they register themselves.
How can a teacher link a pupil to a parent?
How does a parent activate their code?
Develop a Pobble routine that works!
We recommend regular use of Pobble lesson resources, including Pobble 365, Pobble News, The writing bank and our Pobble lessons.
Where IT allows, ensure pupils have regular opportunities to use their pupil logins. This can be to access lessons, upload work, peer and self assess writing or to access example texts
Create a weekly routine for publishing which would usually involve recognising the work of 2-5 pupils in your class. Celebrate their work on the Pobble site and reward them with certificates, lanyards or stickers.
Join a termly moderation session to support your assessment judgements and prepare you for external moderation.